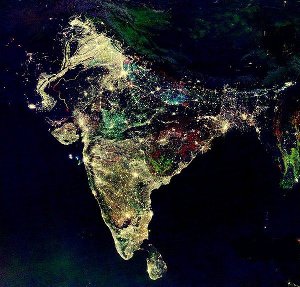 Wishing the entire Debian community worldwide a happy and prosperous Gujarati New Year (Vikram Samvat 2068 called Shobhan.)
The picture above, is one that's been making the rounds of the Indian blogosphere. It purports to be a NASA satellite image of India on Diwali (which was last night.) Actually it is a composite of several night shots taken over a period of a few years. Also the red dots are people who have been injured by fireworks and the green dots those immobilized by the ingestion of too much baraphi and halwa. But I could be wrong about that.
I've had some terrific news these past few days but alas I'm not at liberty to divulge it just yet...