Wishing everyone a happy Gujarati New Year (Vikram Samvat 2070 called Vishvavasu.)
You'll get your Diwali present tomorrow :-)
Sometimes it's easy to forget that Debian's unstable branch is...unstable. Unfortunately today I have to remind you of that unpleasant fact. Dovecot 2.1.7-6 which I just uploaded has removed some features present in -5.
TCP

Wrappers support.
Hurd compatability support.
Triggers
The reason for this is that I am trying to get dovecot in shape for Wheezy. Unfortunately, as I have been severely pressed for time these past few months, the process did not take place in quite as orderly a fashion as I had hoped. My -5 packages were deemed by the release managers to have too drastic changes for this stage of the pre-Wheezy freeze and this is an attempt to make things more acceptable to them. Hopefully this version will pass into testing without incident and as soon as it does, I will prepare -7 which will put these features back. So if you need any of them, you are advised to skip -6 and stay at -5 until that happens.
If you are following testing there is another possible problem you might encounter. When -1 of this version was uploaded, certain extra conf files were accidently omitted from the package. This is also true of -2 which is currently in testing. It was fixed in -3 but that version (or -4 or -5) never made it into testing so -6 is potentially the first time you might be dealing with the conf file fix. If you have manually made changes to files in /etc/dovecot/conf.d make sure you have backups because they may get overriden (as dpkg will be unaware at that point that they are conffiles.) This is a one time only packaging error and will not be a problem going forward but I apologize in advance for any inconvenience caused.
And this is a good time to ask anyone interested in Dovecot on Debian (and Ubuntu etc.) to volunteer to help maintain it. It is getting more and more popular at a time when I can give it less and less attention. It is vital that an important package like this needs is team-maintained and it kind of is but so far other people who have expressed an interest in joining the team have been similarly strapped for time so we still need more recruits. All the code is publically accessible at git://git.debian.org/git/collab-maint/dovecot.git and I would be happy to sponsor any non-DD/DMs who need it.
Wishing everyone reading this a happy Gujarati New Year (Vikram Samvat 2069, called Krodhin,)
Diwali was a bit of a squib this year thanks to the aftermath of Hurricane Sandy but we survived relatively unscathed so I pray that in the upcoming year Lakshmi Ma will give a portion of my good fortune to those who are still suffering.
Normally around this time of year I would post a picture of one of my children in their Halloween costumes but alas this All-Hallows Eve, Hurricane Sandy has put an end to such frivolity. For, from out of this hell-born wind comes the tale of a creature so horrifying that even puissant warlocks of dark power cower in their Batman pajamas at the sound of his doom-laden moans rending the night as he wanders pitiously through the blackened streets searching for his forbidden love. I speak of the one known only as...
THE MAN WHO WENT FOUR DAYS WITHOUT INTERNET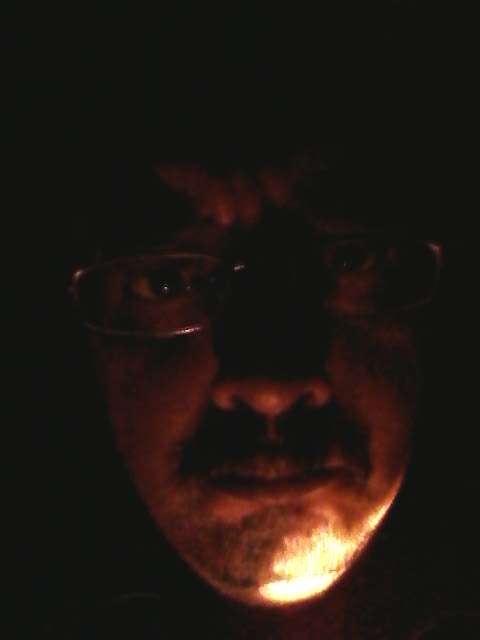 With all the recent talk about running on Planet Debian I am proud to announce that I did a 10K run today. It took me just about an hour—a pace which for Bubulle, Noel etc. is approximately equivalent to standing still—but I managed to finish without collapsing in a puddle of sweat and shame, so I consider it an achievement.

The writings been on the wall for a while but now it's official. I will not be able to attend DebConf this year. Or YAPC::NA either. I am still holding out hope of being able to go to Disneyland however.
This is the latest upstream version and will, barring any unforseen circumstances, be the version in wheezy, the upcoming stable release of Debian GNU/Linux. In order to ensure it is the high quality our users have come to expect from Debian stable, I need your help.
First and foremost, please test the hell out of it. Upgrades during a stable release are in general not allowed unless the problem is security related so we need to shake all the bugs out now. I am particularly interested in knowing if there are any issues with upgrades from squeeze.
I waved my hands ineffectually at the bug list but it needs more attention. Could some kind person go through them and let me know which ones are no longer valid, need further attention etc.?
I attempted to add hardening flags but lintian still complains a lot. I think the warnings are probably false positives but I'm not a 100% sure so I would appreciate some advice from those who know more about such things.
Those are the issues that come to mind at the moment but feel free to let me know if there's something I've missed.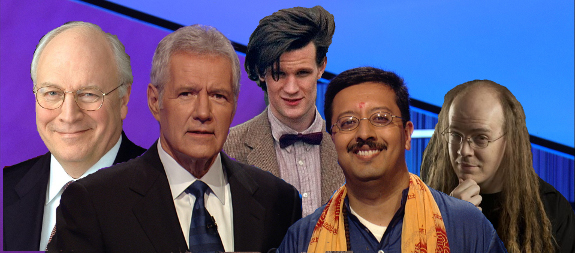 By incredible coincidence, Dick Cheney, Dr. Who, and Devin Townsend were in L.A. that very day.
By now hopefully you got a chance to see my Jeopardy! episode so it won't be much of a spoiler to mention that I didn't win.
It went like this. I flew into LA on the night of October 31st. The taping was to take place on the next two days. Jeopardy! tapes two weeks of shows, two days a week for a total of 10 episodes. Contestants are randomly chosen for one of those 10 episodes but you don't find out which one you will be on until the last minute. Randomness and secrecy have become become a big part of the production process in games since the quiz show scandals of the 1950s. (Interesting fact: it is a Federal felony to tamper with a TV game show.)
There were a group of just under 20 0f us altogether waiting to go on. All very nice people. Here in the New York area one tends to equate very intelligent people with "Type A" personalities but we got on well together.
Interspersed between the tapings, we had short practice sessions to familiarize ourselves with the studio setup and this is where I first started getting a little apprehensive. Jeopardy! is not just about general knowledge, there is a physical element too in that you have to buzz in by pressing a button on a stick which is wired up to some producers console. You can't buzz in before Alex has finished reading the question and obviously you can't buzz in if someone is already answering the question. If you buzz at the wrong time, your buzzer locks for 0.75 seconds so just jamming your finger on the button. I didn't even get that far as on the entire first day I failed to buzz in at all despite changing hands, changing grip different ways and other strategies. I was pretty despondent by the second day but then miraculously I managed to get the hang of it. So when I was finally selected (for the 3rd game of that day.) I was back to my usual cool self. I was up against Dave Leach and Nicholas Campiz who were returning after having tied in the previous game.
And the game did start well enough. Oh one thing you may notice is that Alex mispronounces my name Jaldhal. I knew he did that once or twice and even mentioned it to a producer but it was only viewing the episode right now that I see he does it consistently. I assumed such things would be fixed up in post-editting but I guess not. Oh well, after living in this country for so many years I've learned to be happy whenever two consonants are more or less in the right place. This particular mispronunciation is actually fairly common, even Indian people have been known to make it. The alternative theory is that Alex couldn't read my horrible handwriting which is also plausible.
Anyway, I digress. I started off fairly well. My first mistake was in a category about alcoholic drinks. I answered vermouth when the correct response was gin. In my defense I'm a strict teetoler so none of these words mean anything to me. I also earned the disapproval of my superhero fan son by mistaking Dr. Strange for Dr. Doom. I did get the one about Spiderman villain Dr. Octopus so that mollified him somewhat.
The highlight of my evening was strangely enough in a category about books of the Bible. I got a Daily Double. It was a risky move but I have always wanted to make a "true" daily double so I threw caution to the winds and wagered everything I had. To my surprise as much as anyones, got the answer right doubling my score.
I was in a pretty good position for the Double Jeopardy but thats when Dave started dominating. If you haven't been watching previous games, Dave Leach is arguably the best player this season. Not only is he smart but he is almost supernaturally fast on the buzzer. You can't see because I kept my hands behind the podium but I again and again I would desperately try to ring in on a question I knew the answer to only to be beaten to the punch by Dave. This caused me to start getting a bit reckless and answering questions where I was less than certain which cost me dearly. One particularly dumb mistake was in a category where all the answers were supposed to start with the letter g. I said compass when I should said gyrocompass but actually I should have left that category alone entirely.
By the time Final Jeopardy came around winning was no longer an option as Dave was too far in the lead. I was slightly ahead of Nicholas in 2nd place. This is where I again made a strategic error. My original plan to bet nothing in Final Jeopardy but the category was "1930s Novels" and I liked my chances. The clue was read out and it involved an anti-war novel whose author was blacklisted. I was elated. It had to be "All Quiet on the Western Front" right? The blacklist bit gave me pause as the author Erich Maria Remarque was German and this was obviously a reference to the anti-Communist blacklist in the 1950s USA. But somehow I remembered that he had spent the end of his life in Hollywood or maybe I just convinced myself that it was plausible. Evidently my thought process wasn't too crazy because all three of us came up with the same answer. All three of us were wrong. The correct answer was "Johnny Got His Gun" by Daltan Trumbo. In hindsight I knew this but it illustrates the strange ways the mind works. I knew because the video for Metallicas song "One" from "...And Justice for All" is based on the film adaptation of this book. However in a previous orientation session the lady who is the contestant coordinator for Jeopardy! had mentioned AQOTHWF as anexample of something and this got stuck in my brain crowding out the previously known fact.
So when all was said and done I ended up in 3rd place. (I bet big whereas Nicholas was more conservative.) Oh well. Despite not winning I had a blast. I fulfilled my dream of appearing on Jeopardy! I met Alex Trebek. (And I should be receiving an autographed picture of us together soon.) My witty banter was sufficiently witty. I made enough money to cover my travel expenses and still have a nice amount left. And I got to meet lots of interesting and wonderful people. So I'm satisfied.